Bali's Kuta Beach quickly became the island's number one tourism destination thanks to its stunning expanse of white sandy shoreline and reliable surf.
The classic coastal beach destination continues to be one of the world's best places to learn to surf.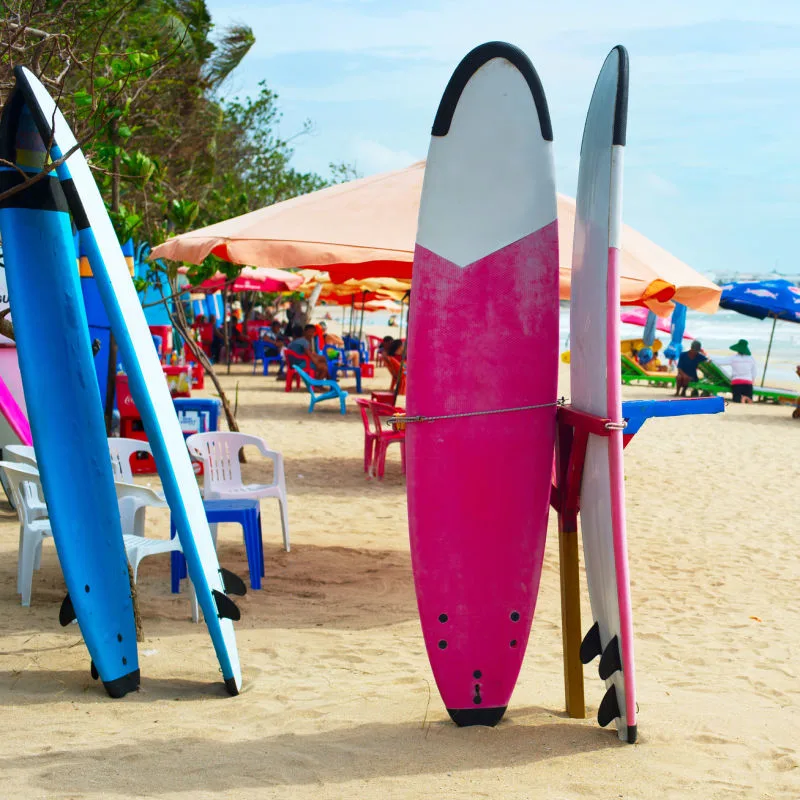 Before the arrival of mass tourism, Bali was a destination for intrepid cultural explorers and surfers.
Since the arrival of international tourists way back when (really the 1960s), Bali has been a destination held in high regard by the surfing community.
Over the years, hundreds of thousands of people have tried to catch their first waves at Kuta Beach.
Often described as a beginner's paradise, the waves of Kuta Beach give learners the confidence boost they need to continue their practice.
The waves may feel a little tame for the pros, who tend to gravitate towards more challenging breaks down in Uluwatu, but even for intermediate surfers, the waves at Kuta Beach provide plenty to play with.
As a tourist destination, many consider that Kuta has lost some of its original charms. Yet, for just as many, a vacation in Kuta feels like a homecoming.
The area is now designed purely with tourists in mind. From sports bars to western-style burger and grill restaurants to nightclubs and all-inclusive hotels, Kuta is ideal for a classic beach holiday.
Top 5 Travel Insurance Plans For 2023 Starting At $10 Per Week
Easily Earn Points For Free Travel
For travelers keen to learn to surf, Kuta is undeniably the place to do it. The gentle waves off Kuta Beach make for the perfect playground for beginners.
What's more, there is an overwhelming amount of choice when it comes to surfing schools and teachers to choose from.
Kuta Beach is lined with beachfront resorts, locally run beach cafes serving up cold beers and sun loungers for hire, and surf schools.
Often run by local guys, both the formal and informal surf schools along Kuta Beach give wannabe surfers access to all the resources they need to get out on the water.
A surf lesson from a school based at Kuta Beach generally lasts for an hour with an English-speaking surf instructor.
Some schools offer group classes, but most offer 1-2-1 training which vastly increases your likelihood of standing up on the board in the first class.
If you're already an intermediate surfer or simply a more confident beginner, you can just hire a board and a rash vest by the hour.
Prices generally start at IDR 50,000 an hour for board hire, though prices may increase during the high season.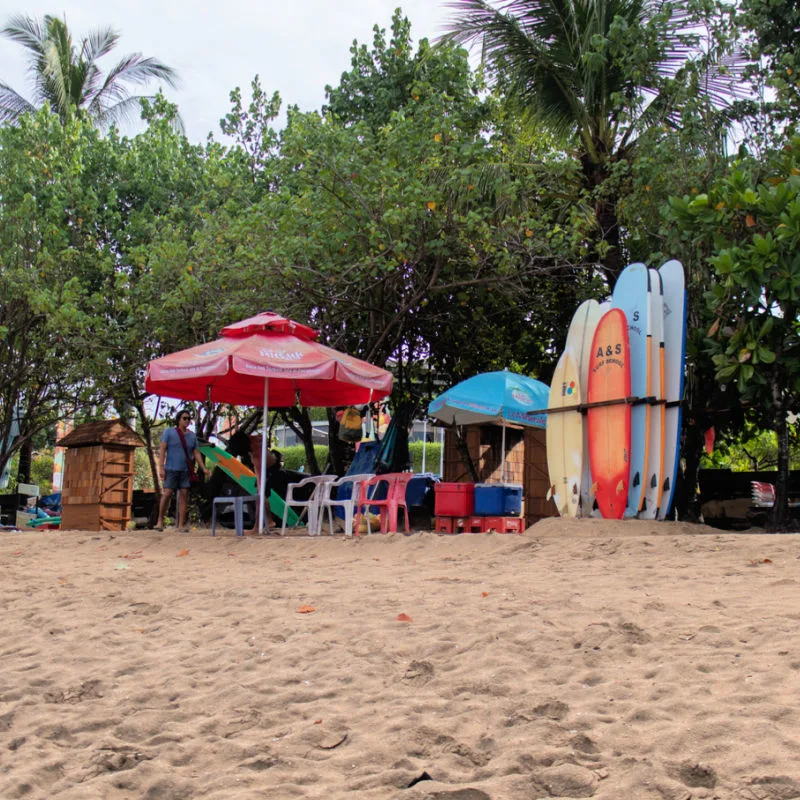 Part of the reason why learning to surf at Kuta Beach is so popular is that the sandy shoreline and ocean floor.
Unlike in other popular surf spots in Bali, beginners don't have to worry about slicing up their shins on the rocks and coral when they invariably get tipped off their board.
One of the most highly regarded surf schools in Kuta is Endless Summer. This surf camp gives tourists the surf vacation of dreams. Room rates include more than just a place to sleep.
Guests have access to six surfing lessons per week, surfboard rental, surfing theory classes, as well as surf photo and video analysis.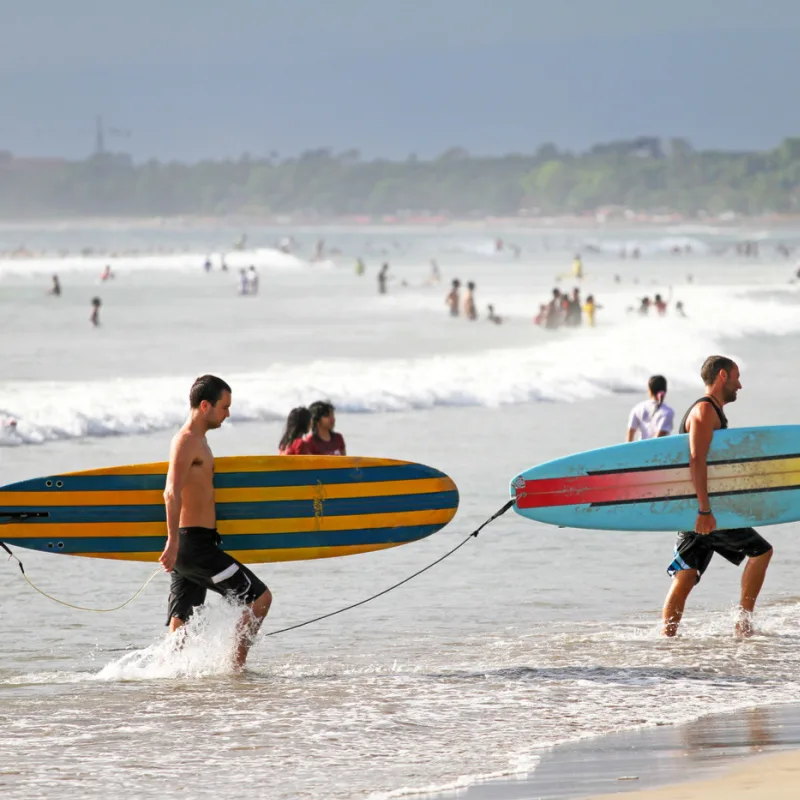 Free airport transfers are included for guests staying three nights or more. A surf camp vacation is a great way to immerse in learning a new skill and still have time to explore the Island of the Gods and take in some well-earned chill time.
Odyssey Surf School is another of Kuta's most famous surf schools. Located at the Mercure Hotel Arcade on Kuta Beach, Odyssey Surf School is highly regarded for international safety and teaching standards.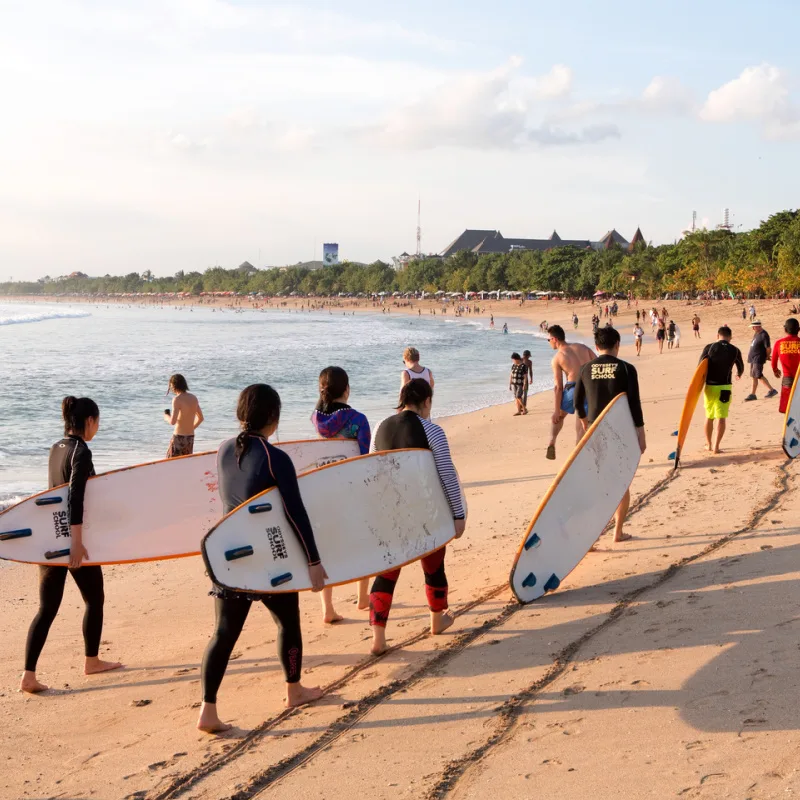 All instructors "are certified by the Australian Academy of Surfing Instructors and have received bronze level training for Life Saving Surf Rescue, Advanced Resuscitation and Senior First Aid of the International Standard."
Learning to surf with Odyssey Surf School can be a whole family affair! The school is open for all ages and all skill levels.