Turtle conservation is one of the most important wildlife protection projects in Bali.
These endangered creatures are under threat as their coastal nesting grounds become increasingly urbanized or degraded. Turtles are also highly under threat due to poaching.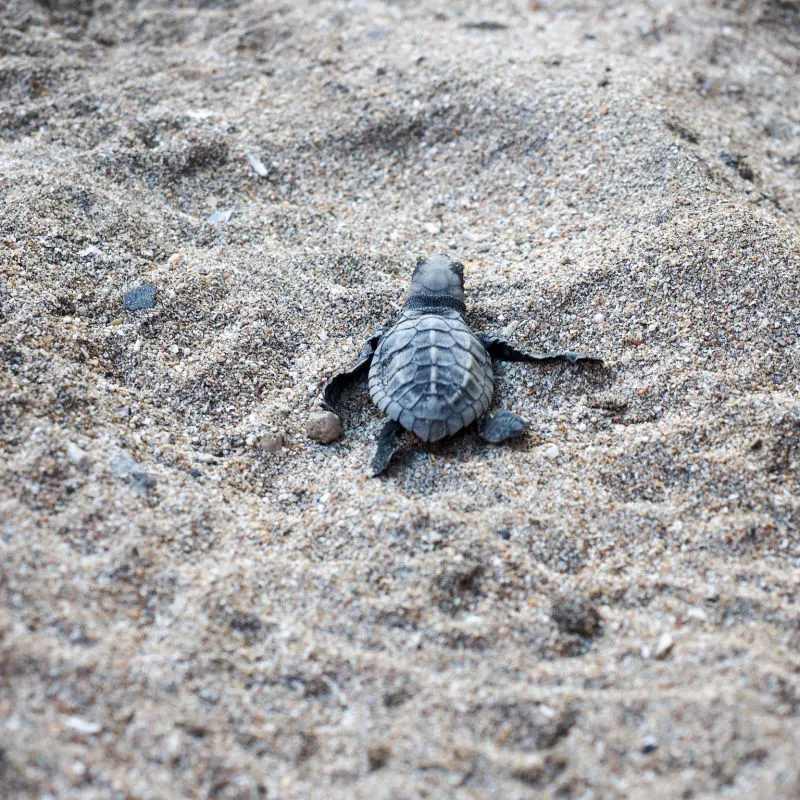 Thankfully in Bali, turtle conservation projects have been underway for decades. One of the most famous turtle conservation projects on the island is the Kuta Beach Sea Turtle Conservation Center.
For decades local volunteers have protected turtles along the stretch of busy coastline.
One of the stars of the Kuta Beach Sea Turtle Conservation Center is 71-year-old Mr. Turtle. His real name is I Gusti Ngurah Tresna, and he has been working at the facility since it was formally founded in 2011.
Mr. Turtle spoke with reporters about his work in turtle conservation on Bali's famous Kuta Beach. He explained why he came to be known as Mr Turtle.
Tresna said, "They (tourists) always ask, can I call you Mr Turtle? At that time, I was so happy that it was easier for them to call me, and for sure, while still living in my body, I promised to continue to do something for the environment as long as it was given health by nature. This is ingrained, and I am still passionate about it."
He shared his delight that foreign tourists continue to support the work of the Kuta Beach Sea Turtle Conservation Center and the Bali Sea Turtle Society.
Mr. Turtle reveals that the threats of poaching and habitat degradation remain as present as ever for the resident turtles of Bali's coastal waters.
Top 5 Travel Insurance Plans For 2023 Starting At $10 Per Week
Turtles will always return to the place where they were born to hatch their own eggs. Despite concerted efforts, there is still a thriving illegal trade in turtles across the world.
In some cultures, turtles are killed for their shells and in others for their meat.
Mr. Turtle said, "To be honest, those who care more are outsiders when it comes to this turtle animal. They really respect what we do. Because Bali used to be called a turtle slaughtering site."
He explained that his commitment to his work has been appreciated by foreign tourists and that the work of the conservation initiatives has put Bali on the map as a place that is committed to conserving these endangered species.
Mr. Turtle continued, "Our program here is not for profit; we are not looking for profit. We really protect the environment, protect the habitat and give a good image to the international community."
At certain times of the year, the Kuta Beach Sea Turtle Conservation Center allows tourists and locals to join the team for a hatchling release.
This truly unique occasion has helped increase awareness and understanding amongst travelers as to the importance of sustainable tourism initiatives that help protect the local environment and wildlife.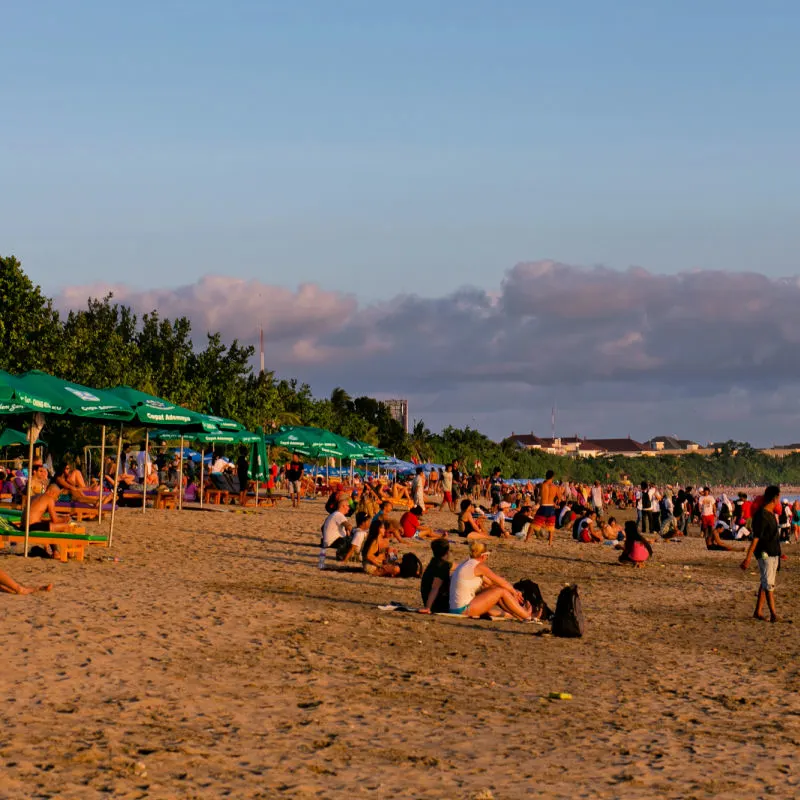 Mr. Turtle told reporters, "This is where foreign tourists get [to do] something they have never gotten in their country. So it really becomes an attraction. Like last time, we released 90 hatchlings, but up to 300 tourists have come, and they are very respectful."
Tourists are given their hatchling turtle in a plastic container, and all turtle release volunteers line up on Kuta Beach just before sunset.
When given the go-ahead, they place the plastic container on the sand, allowing the turtle hatchling to start its journey to the ocean.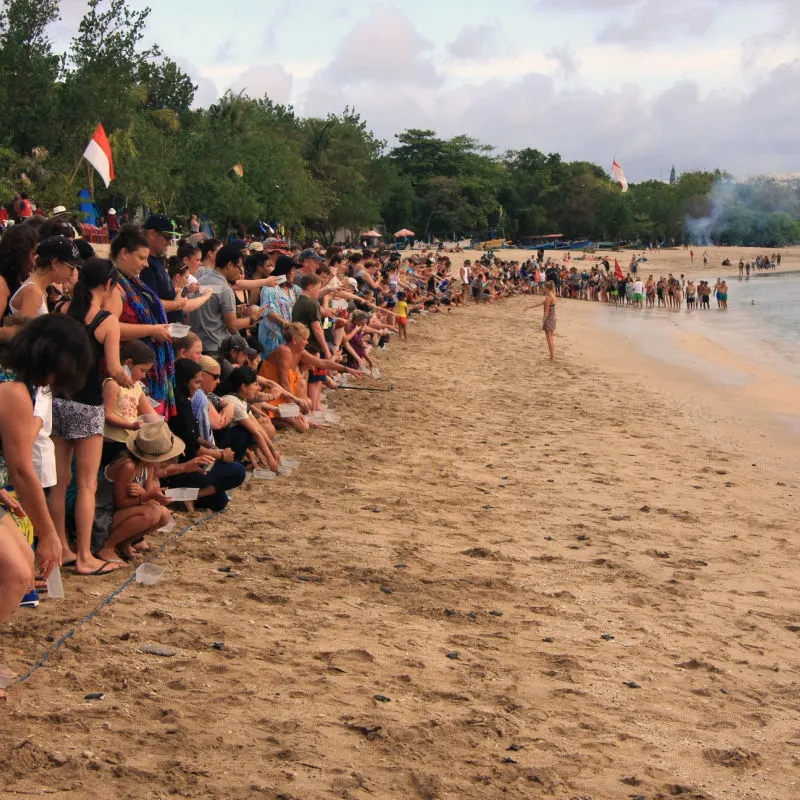 He explained, "We leave in the afternoon because there is still sun. If we release [hatchlings] at night, they will return to the hotel lights so that we will release it in the evening before sunset. Then when the turtle eggs have hatched, we have to release them as soon as possible because naturally, they have to quickly return to nature, that's what we protect and really implement."
Part of Mr. Turtle's work is to collect turtle eggs from the nestling sites along Kuta Beach. The eggs are then hatched at the Kuta Beach Sea Turtle Conservation Center and cared for until they are 45-60 days old when they are then released into the ocean.
Turtles tend to lay eggs along Kuta Beach between April and August. Mr. Turtle and his teams do nightly patrols of the beach to ensure the turtles and their eggs are protected from potential poachers.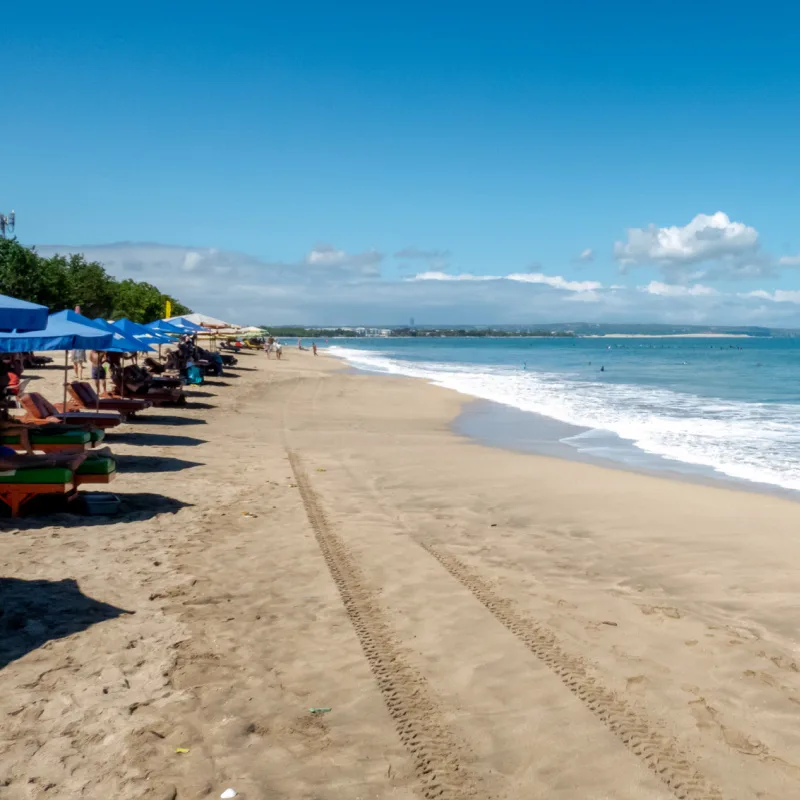 Mr. Turtle hopes that the project will continue to ensure tourists and local people to care for nature. He concluded, "Right now, my son is continuing; since he was young, I have invited him to join in looking for turtle eggs. Even my two grandchildren, Arim and Angga also like to help me."