As a destination, Bali is best known for being home to some of the most luxurious and exclusive hotels in the world.
There is one coastal resort area, however, that is home to more 5-star hotels than any other part of the island.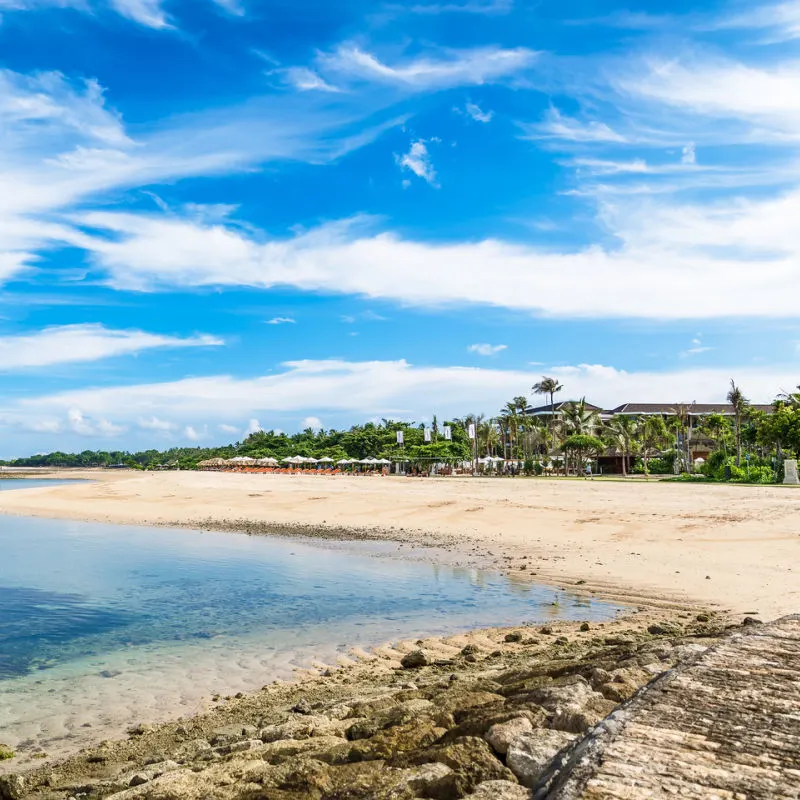 Nusa Dua is one of Bali's leading tourism destinations. Don't be confused; Nusa Dua may translate to mean 'two islands,' but this beachside resort is definitely part of mainland Bali.
Located just a 30-minute drive from I Gusti Ngurah Rai International Airport, Nusa Dua is one of the most conveniently located vacation destinations on the island.
Some of the world's biggest luxury hotel companies have established resorts in Nusa Dua. This has helped put the area on the map as a destination for VVIP luxury travel.
Nusa Dua is home to some of the biggest and best 5-star resorts on the island and is where tourists will find the highest concentration of luxury accommodation.
The Ritz Carlton at Nusa Dua is one of the most impressive hotels in the area. The hotel offers breathtaking views over the Indian Ocean and private access to Nusa Dua Beach.
The resort is surrounded by lush tropical gardens, and each villa offers guests access to their own private pool.
Top 5 Travel Insurance Plans For 2023 Starting At $10 Per Week
Easily Earn Points For Free Travel
Some people feel that Nusa Dua is somewhat detached from the rest of Bali. As a carefully curated resort area, Nusa Dua sits away from some of the island's leading cultural landmarks.
That being said, hotels like the Ritz Carlton integrate traditional Balinese design throughout the hotel, giving guests a truly immersive experience.
With the Ritz Carlton Bali, guests can participate in a traditional Balinese Soul Purification ritual, also known as a Melukat ceremony, on Nusa Dua Beach.
The most famous hotel in Nusa Dua is The Apurva Kempinski. This hotel has welcomed everyone from celebrities to politicians, royalty, and more. Guests can check in to lavish villas and opulent suites that feature marble floors and inspiring interior design.
If you are looking for a once-in-a-lifetime getaway in Bali, then a stay at The Apurva Kempinski is absolutely the place for you.
The Ritz Carlton and The Apurva Kempinski are really just the tip of the luxurious iceberg in Nusa Dua.
The Laguna, a Luxury Collection Resort and Spa in Nusa Dua offers guests a 24-hour personal butler service at each of their private villas.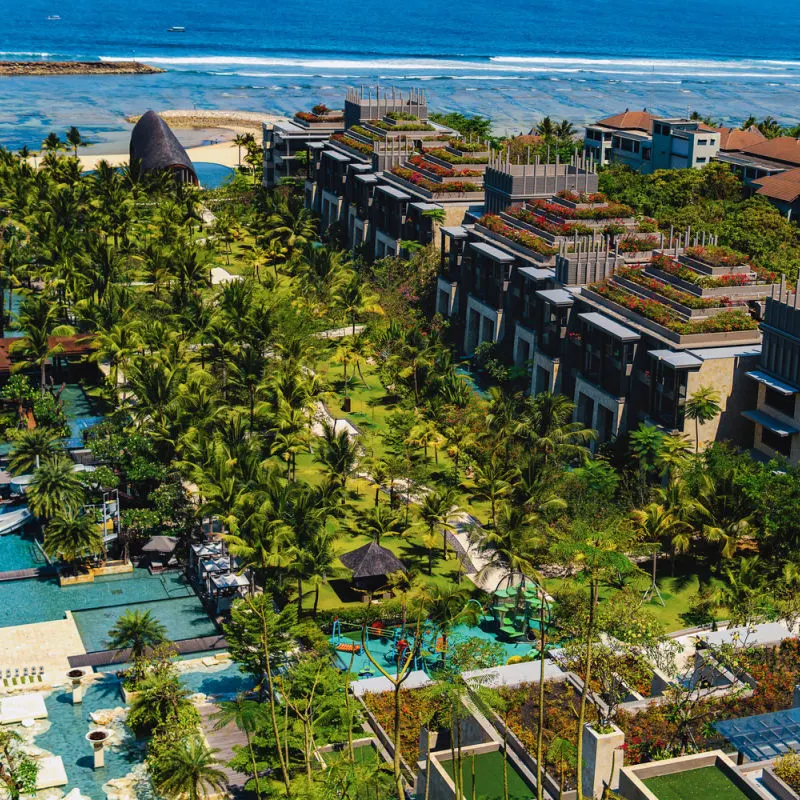 Each villa comes with a generous private swimming pool, and guests have access to the resort's seven other pools and lagoons.
Undeniably posh, The Laguna is part of the Marriott group, and the hospitality afforded to guests is of the famously high standard that has positioned the company as one of the finest travel brands in the world.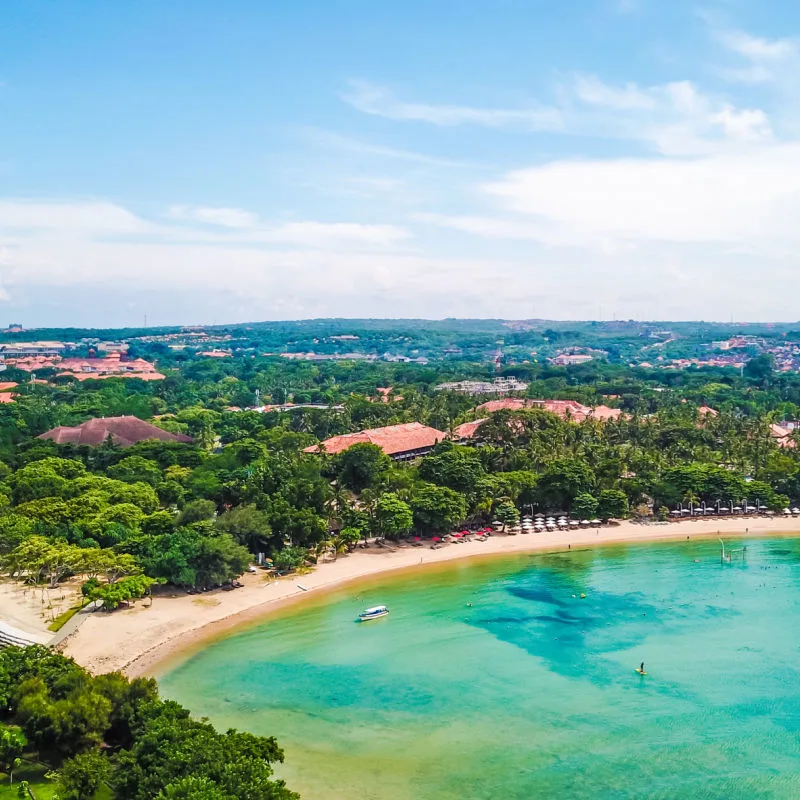 Nusa Dua is typically a resort popular with couples who are seeking a romantic coastal retreat.
That said, there are plenty of options for families on vacation in Nusa Dua. Club Med Beach has its own private lagoon just north of Nusa Dua Beach.
Famously one of the world's most iconic family resorts, Club Med Beach in Bali offers families all the holiday fun they could ask for, all in one place.
From the kids club to the family-friending restaurants, from the ariel circus school and swimming pools, there is so much to love about Bali's Club Med Beach in Nusa Dua.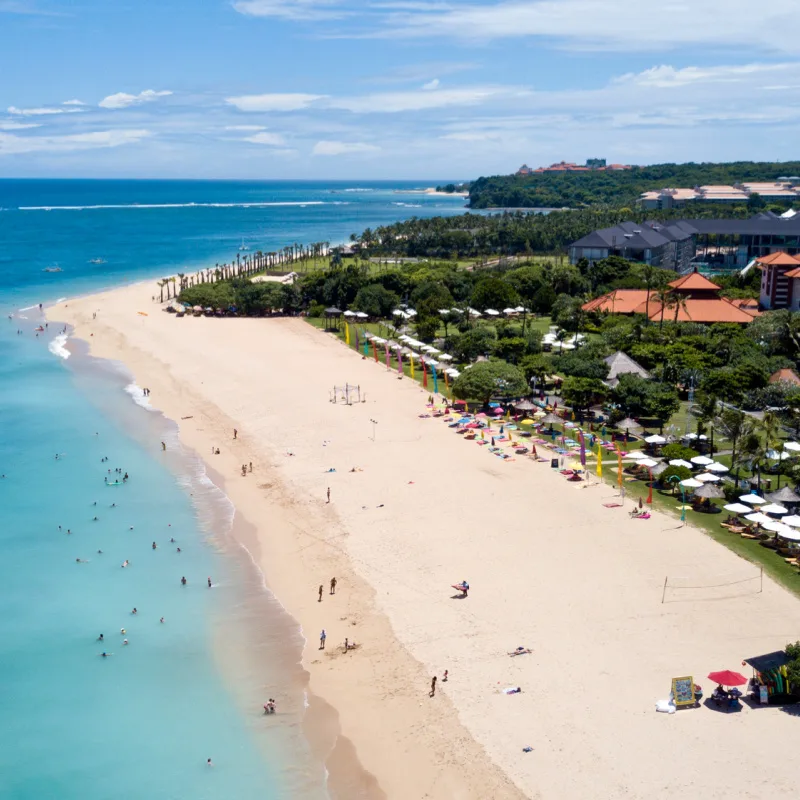 Surprisingly, many of the 5-star resorts in Nusa Dua are more affordable than you might first think. Nightly room rates at Nusa Dua's 5-star resorts start at around USD 150 in the low season.
Last-minute deals can always be found by booking directly, and often these resorts give exclusive offers that can only be found by looking at their websites rather than through online hotel search engine providers.