Bali's Nusa Dua is a coastal resort destination famous for its pristine white sandy beaches and luxurious hotels.
This is really only the tip of the iceberg of what the area has to offer tourists. Nusa Dua has a thriving culinary scene that is leaving travelers increasingly impressed.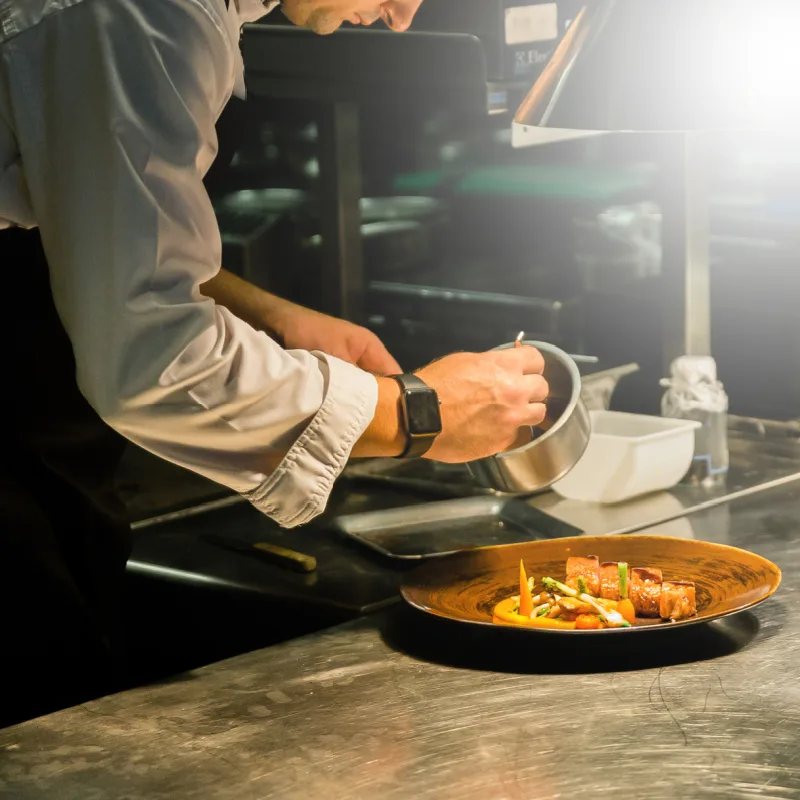 The Koral Restaurant at Apurva Kempinski is one of the most iconic restaurants in all of Bali. This truly unquote aquatic dining experience is a once-in-a-lifetime culinary journey that is surely the highlight of any fine dining tour of Bali.
Head Chef Andrea Astone has created menus fit for presidents, royalty, and celebrities. Bringing together the finest of the world's fresh and seasonal produce, diners at Koral can expect modern cuisine with an innovative twist.
Guests are invited to dive into their meals while seated in the Koral Restaurant, which is itself an aquarium.
Koral is described by Apurva as "more than just a restaurant; Koral offers a full bistronomic experience, combining delectable dining, a laid-back ambiance and the rarefied atmosphere of an aquarium, accompanied with a hypnotic soundtrack that captures the magic and mystery of life below the waves."
Top 5 Travel Insurance Plans For 2023 Starting At $10 Per Week
Easily Earn Points For Free Travel
The newly re-reopened Kulkul Beach House is one of the best dining experiences in Nusa Dua. The menu has a great deal of choices to suit every appetite and dietary style.
There are plenty of vegetarian and vegan options, and the kitchen team has gone about and beyond to ensure that the whole food and beverage operation at Kulkul Beach House is as zero-waste as possible.
The decadent smoked salmon macarons make for an indulgent poolside bite, and the nourishing cauliflower steak is a hearty plate to keep you fueled up for a full day of beach house relaxation.
For beachfront fine dining in Nusa Dua, look no further than the Kayuputi at The St. Regis.
This simply stunning restaurant is effortlessly elegant and serves up Asian-Haute cuisine that has to be seen…and tasted…to be believed.
Brunch lovers unite at Kayuputi every Sunday for their famous Champagne brunch. This boozy breakfast is as chic and stylish an affair as the Kayuputi itself.
Booking in advance is definitely recommended. The Astor Brunch is a true indulgence hosted at Kayuputi every Sunday from 11 am until 3 pm and includes Champagne and caviar.
Moving away from the fine dining to the stunning celebration of Balinese culture that is Art Cafe Bumbu. For over 20 years, Bumbu Bali has been a platform for the promotion and preservation of Balinese culture.
The restaurant is more than a dining experience; guests can expect to have a complete cultural immersion during a visit to Bumbu Bali.
The whole restaurant focuses on creating an unforgettable culinary, cultural, and artistic experience for visitors. The restaurant serves up some of the most authentic and highly celebrated Balinese food anywhere on the island.
It is not to be missed. Menu highlights include the classic Nasi Campus and the Balinese Rijsttafel set menu dining extravaganza.
Bejana at the Ritz Carlton is the hotel's award-winning Indonesian restaurant. The fine dining eatery is set upon the dramatic cliff tops of the resort, overlooking Nusa Dua and the glinting ocean.
The Bejana has proudly created menus that highlight some of the best of Bali and Indonesia's culinary heritage.
The two-person Indonesian Archipelago Rijsttafel set menu is an absolute treat and includes signature specialties like the Balinese Ikan Lokal Menyat-Nyat (Garlic, ginger, and kaffir lime local fish fillet) and Rendang Daging Sapi (Sumatran beef rendang curry).
Cliff At Canna is a glamorous and sophisticated fine dining experience overlooking the glistening ocean.
The interior design of the restaurant is super intriguing; designers used upcycled materials from old houses to create a one-of-a-kind space.
Diners are invited to spend the day at Canna, the beach club, and stick around long into the night to party at Cave at Canna, the in-house nightclub.