Bali's beach club offering just got even more impressive. The pristine coastal resort of Nusa Dua has officially welcomed its newest edition to the world-class hospitality scene.
Kulkul Beach House is set to reestablish its place as one of the island's leading leisure retreats.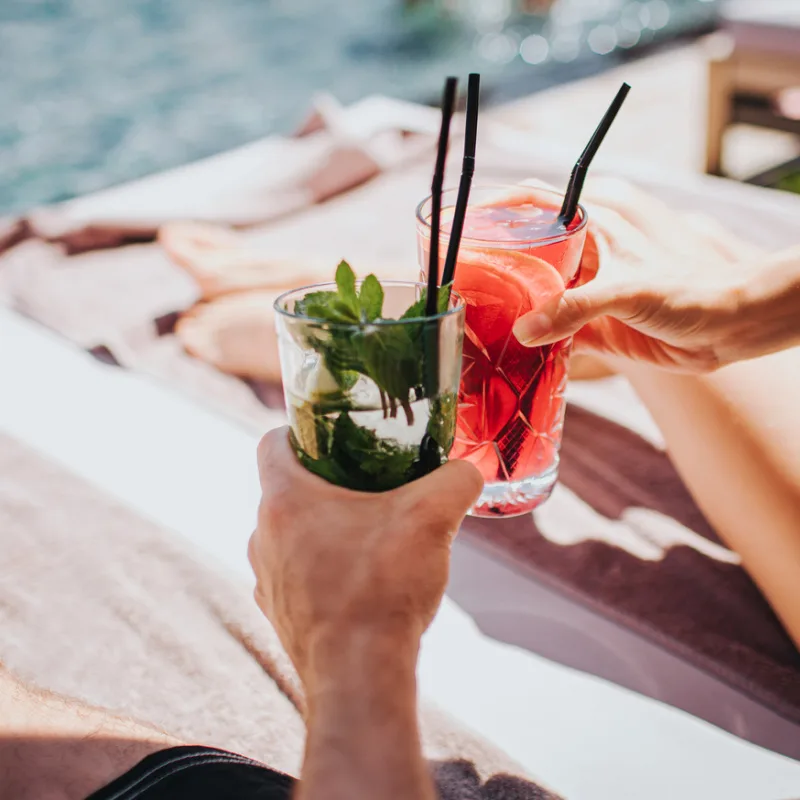 The sandy shores of Nusa Dua are home to some of Bali's most luxurious and exclusive resorts, hotels, and restaurants. The newly re-opened Kulkul Beach House is raising the bar once again for Bali's most high-end resort.
Kulkul Beach House is newly renovated and features a breathtakingly beautiful interior design.
The new menus, featuring an impressive selection of signature cocktails, are sure to set Kulkul Beach House apart from the crowd when it comes to culinary prowess.
Just a glance at the menu at Kulkul will have your mouth watering and tummy rumbling. Featuring everything from Kulkul kitchen's signature 'bites' to classic sliders, sandwiches and flatbread, and a generous selection of sweets, guests can dine in style at Kulkul.
Favorites include the decadent smoked salmon macarons, a nourishing cauliflower steak, and the Margherita flatbread.
Described as 'a chic yet laid back beach house that offers the best views of the Indian Ocean', Kulkul Beach House is the perfect place to spend long and indulgent restful days in Bali.
Top 5 Travel Insurance Plans For 2023 Starting At $10 Per Week
Easily Earn Points For Free Travel
Though firmly rooted in Bali, the ambient Mediterranean music provides the perfect playlist backdrop for the Kulkul Beach House experience.
There is definitely a relaxed vibe at Kulkul Beach House, attracting guests who wish to spend their days unwinding amidst the tranquility of the poolside, lounge areas, and restaurant.
In this new chapter at Kulkul Beach House, sustainability is being taken even more seriously than before.
The teams behind the Kulkul Beach House kitchen have leveled up their commitment to creating earth-friendly foods.
This includes doubling down on their pledge to establish dining experiences that are as zero-waste as possible. The menu features produce grown by local partners across Bali, and there are plenty of options for vegetarians and vegans too.
Guests are invited to kick back and make themselves at home on the loungers and poolside cabanas. The pool is strictly adults only, giving the whole beach house an understated, mature, and stylish feel.
From day into nighttime, guests are invited to stay as long as they like at Kulkul Beach House. And where would you be rushing off to?
On Friday and Saturday evenings, the atmosphere gets a little more lively. The social vibes at Kulkul Beach House really come into their own as live DJs take up their place on the decks to provide the perfect soundtrack to the sunset and moon rising.
Kulkul Beach House is open daily from 10 am until 11 pm. Booking is not always necessary but advisable, especially if you want to secure yourself a cabana.
Kulkul Beach House is part of The Laguna, a Luxury Collection Resort and Spa. The beach club is open to everyone, even if you're not staying at The Laguna.
Looking for other beach clubs to explore in Nusa Dua? Be sure to check out Canna Bali. Opened in 2022, this new beach club is fast becoming one of the most popular beach clubs in all of Bali.
A hideaway for party lovers and beach babies, Canna Bali is more than just a beach club.
Guests can book a table at the ever-impressive Cliff at Canna for a glamorous and sophisticated fine dining experience overlooking the glistening ocean.
The striking wall-to-ceiling windows and meticulously thoughtful interior design of Cliff at Canna gives dinners a sense of true luxury.
For the ultimate part experience in Nusa Dua, be sure to check out Cave at Canna. Part of the beach club itself, Cave at Canna is an exclusive nightclub venue open just two nights a week.
Every Friday and Saturday from 10 pm until late, party-goers in the know head to Cave at Canna for a late-night underground dance fest.