The traditional Balinese New Year, known as Nyepi Day, will fall on 11th March 2024.
The festival is honored by Balinese Hindus across the island as a day of silence which will start at 5:59 a.m. on Monday 11th March 2024 until 6:00 a.m. on Tuesday, 12th March 2024.
The night before the day of silence, communities typically come together for the annual Ogoh-Ogoh parade, which is one of the cultural highlights of the year for Balinese people and tourists too.
However, leaders have suggested that the Ogoh-Ogoh parades will be canceled this coming year due to the general election that will be held on the 14th of February.
However, despite provincial and regency Ogoh-Ogoh parades held in city centers unlikely to go ahead, festivities can still be held within communities.
The Ogoh-Ogoh parade features huge, intricately designed mythological creatures that represent evil or demonic entities.
Every village, every street, and every community in Bali works together for weeks ahead of the parade to construct their Ogoh-Ogoh ready for Nyepi Eve.
Shortly after sunset, effigies are then paraded through the streets and moved in a circle three times at every intersection in the community to help ward off evil spirits who are believed to reside at crossroads. It is one of the greatest spectacles of Balinese culture that tourists can observe.
Tourists from all over the world time their visits to the island for the festival, and visits are encouraged to line the streets near where they are staying to be a part of the action.
Traditionally, the Ogoh-Ogoh were then burned at the community temple grounds or playing fields, but in more recent years some have been sold as art installations or shaken violently until they break.
Ogoh-Ogoh typically depicts evil spirits, though in previous years, they have been constructed to resemble more earthly beings, and this is the concern of the regency governments.
They have suggested that culture and politics should not mix and there is a risk that an Ogoh-Ogoh may be constructed in the image of political figures during the election year.
Speaking on behalf of the Badung Regency Government on the 7th of November, the Head of the Badung Culture Department, Gede Eka Sudarwitha, said that the regency will likely lay on a different kind of cultural ceremony to mark the 1946 Nyepi Saka.
Badung Regency is the region of Bali most popular with tourists and is home to resorts like Kuta, Legian, Seminyak, Canggu, Uluwatu and Jimbaran.
He has suggested that the regency parade may not go ahead but that communities will be allowed to continue with their local, traditional parades so long as they do not create Ogoh-Ogoh with a political agenda.
@ogohogohdenpasar SALAH SATU OGOH-OGOH TERBAIK PADA TAHUN 2019 DAN OGOH-OGOH FAVORITE MIMIN. OGOH-OGOH NARASIMHA AWATARA INI KARYA DARI BANJAR MERTHA RAUH KAJA, SEKA TRUNA DHAMA WIJAYA KUSUMA DENGAN SANG ARSITEK BLI WAYAN MANUK. WAKTU PERTAMA KALI MIMIN KE BANJAR INI, MIMIN BENER-BENER SPEECHLESS DENGAN HASIL AKHIR DARI OGOH-OGOH INI YANG MENURUT MIMIN BENER-BENER PERFECT. MIMIN PUN BERULANG KALI KE BANJAR INI, YAITU 3 KALI KE BANJAR NYA DAN 1X KE GOR LILA BHUNA UNTUK MELIHAT OGOH-OGOH INI DIPAJANG DISANA, KARENA ADA PENTAS DI DESA DANGIN PURI KANGIN. TAPI SAYANG BANGET MIMIN GA PERNAH LIHAT OGOH-OGOH INI DI ARAK SECARA LANGSUNG KARENA MIMIN HARUS NGARAK OGOH-OGOH DI BANJAR MIMIN SENDIRI. SELAIN ITU OGOH-OGOH INI SALAH SATU PEROLEH NILAI TERTINGGI DI KOTA DENPASAR PADA SAAT ITU DENGAN NILAI 90,625. BANJAR MERTHA RAUH KAJA INI JUGA SERING MENGANTONGI NOMINASI SETIAP IKUT SERTA PADA LOMBA DI KOTA DENPASAR. SAMPAI SEKARANG, INI MERUPAKAN OGOH-OGOH TERBAIK BAGI MIMIN DENGAN MENGGUNAKAN BAHAN RAMAH LINGKUNGAN, KONSEP, PAYASAN YANG 3D, DAN WUJUD NARASINGA NYA YANG BENER-BENER METAKSU. MIMIN BENER-BENER MENGAPRESIASIKAN TEMEN-TEMEN STT DHARMA WIJAYA KUSUMA – BANJAR MERTHA RAUH KAJA, DANGIN PURI KANGIN. SEMANGAT DAN TETAP BERKARYA🔥🔥🔥 #ogohogoh #ogohogohbali #ogohogoh2023 #caka1945 #ogohogohdenpasar #denpasar #pengerupukan #nyepi #kotadenpasar #budaya #budayabali #ogohogohbaru #ogohogohterbaru #fyp ♬ 7 Ogoh Ogoh (Balinese Song) – Maharani Record
Sudarwitha said that the Ogoh-Ogoh parades in 2024 must be 'classy'.
He explained, "Later there will be signs explaining that while making Ogoh-Ogoh, they can not symbolize political figures or be campaign props. I think the young people in Badung really understand this policy."
He also wants to see the parades organized optimally to minimize road closures on the evening.
Sudarwitha said, "We will urge Sekaa Teruna and traditional villages to hold the competition in a special place, in the village field or the main village road. So there is no need to close the road, or go around until it finishes until morning."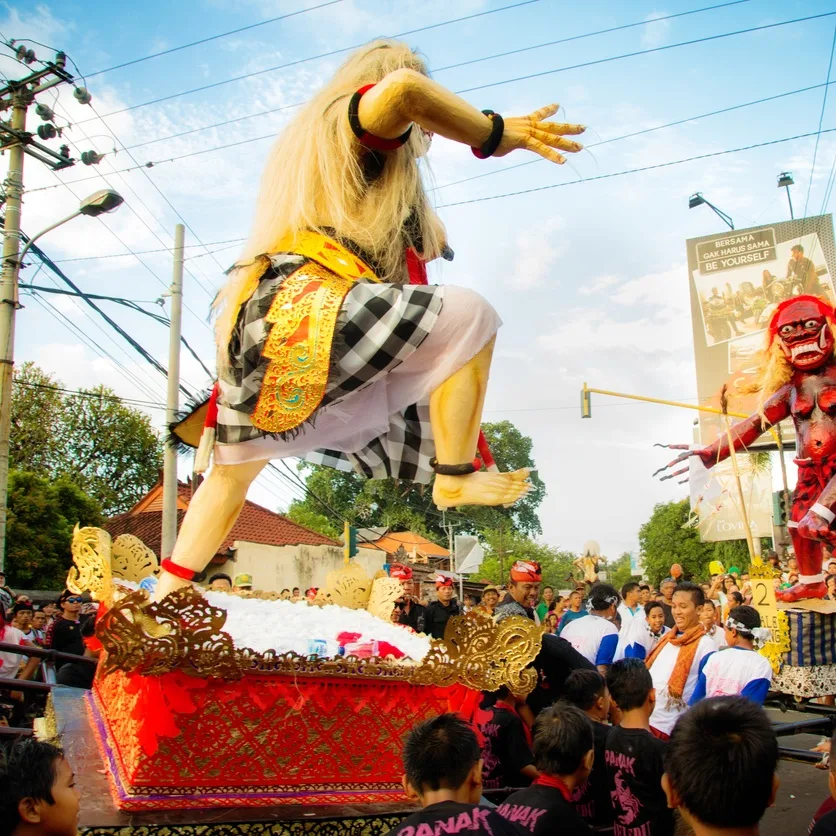 He added, "Activity hours are also limited because being limited will give rise to creativity. So we urge that the competition be held at a maximum of 22.00 to 23.00 WITA, and be held in the village environment."
Despite the regency Ogoh-Ogoh parade not set to happen at this stage, Sudarwitha said that the competitive element of the parade can still be encouraged.
He shared, "It will still be contested in each traditional village so that all components of the same age group can enjoy it. The assessment will be collaborated with events in the village."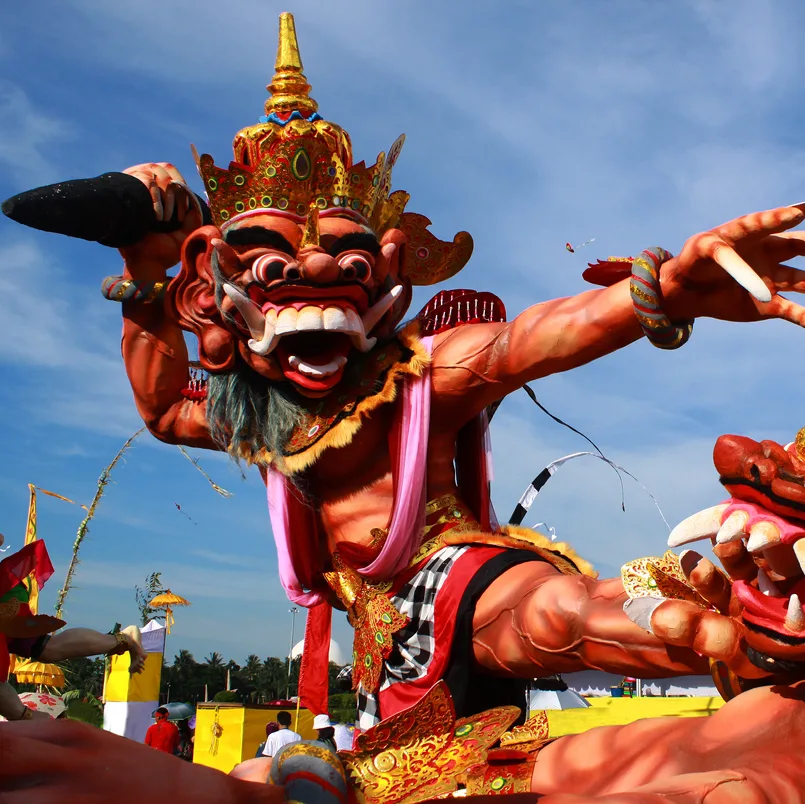 However, all could still change as many youth groups across the island have started to share their upset that the big parades won't be going ahead.
Officials have given their guarantees to tourists planning their visits to Bali in the coming months that travel nor tourism experiences will be impacted by the campaign or the election itself.
Plan Your Next Bali Vacation:
Book The Best English Speaking Drivers For Airport Transfers & Tours
Choose From Thousands of Bali Hotels, Resorts, and Hostels with Free Cancellation On Most Properties
Don't Forget Travel Insurance That Covers Medical Expenses In Bali
---
For the latest Bali News & Debate Join our Facebook Community

SUBSCRIBE TO NEW POSTS
Enter your email address to subscribe to The Bali Sun's latest breaking news, straight to your inbox.