International foodies can rejoice! The Ubud Food Festival will return in 2023.
The world-renowned food festival is a celebration of all things culinary and a platform to showcase the phenomenal food culture of Bali, and Indonesia, to the world.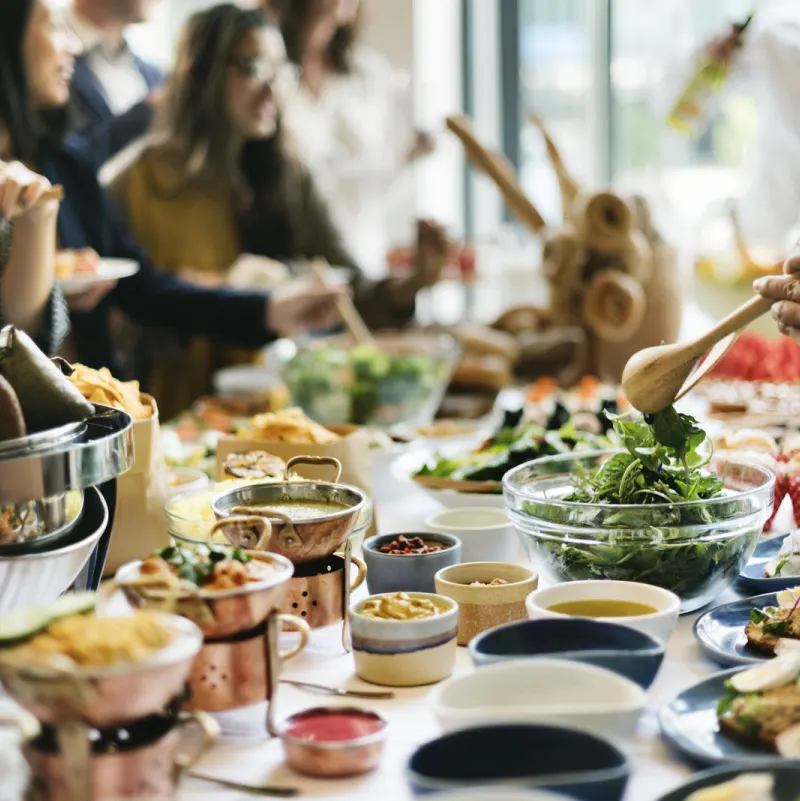 The three-day Festival is dedicated to exploring all of the incredible food and drink that Indonesia has to offer. Attracting chefs, food, health, and agricultural specialists from all over the world, Ubud Food Festival is one of the highlights of the events calendar.
Ubud Food Festival 2023 will feature a lineup of internationally acclaimed chefs, world-class food innovators, and local culinary legends.
Kicking off from 30th June until 2nd July, there is just over a month to go until the big event returns to Taman Kuliner at the very heart of Ubud.
The full program and first round of tickets will be on sale on 15th May, so mark your calendars. We have to wait for the full lineup to be announced on 15th June.
Ubud Food Festival always brings in some of the biggest names in the culinary world. Festival goers are in for a real treat this year!
Some of this year's lineup has already been announced, with many more headliners to be revealed as the festival approaches.
Top chefs at the Ubud Food Festival 2023 include Hans Christian. Head chef at August restaurant in Jakarta, which he founded with Budi Cahyadi from West Nusa Tenggara, Chef Hans is a fine-dining superstar who is bringing his unique culinary flare to Ubud in June.
Top 5 Travel Insurance Plans For 2023 Starting At $10 Per Week
Returning festival fanatics are already excited to see what innovative insights Petty Pandean-Elliott will bring to Ubud Food Festival this year.
An internationally acclaimed Indonesian chef, food writer, inspiring entrepreneur, and humble philanthropist, Pandean-Elliot has played a highly impactful role in bringing Indonesian cuisine to the world stage.
Pandean-Elliot ethnic Manadonese from North Sulawesi is proudly publishing a new cookbook in 2023.
The book called "The Indonesian Table" is set to take "readers on a culinary journey across Indonesia, drawing from her personal experiences."
Ubud Food Festival was launched in 2015 and has played a huge role in the culinary development of both Ubud and Bali as a whole. Organizers revealed that the theme of this year's event will be 'Soil.'
Festival organizers say, 'This theme is a tribute to the living element that provides 95% of the food we eat. The Festival will explore this nourishing and natural resource that makes life on Earth possible.
The theme of soil will be interwoven throughout the event's program. The event will, of course, showcase some of the finest food Indonesia has to offer but also serves as a vital platform for discussions around food trends, the environmental impact of food production and the shift towards sustainable and regenerative food systems.
The founder and director of Founder and Director, Janet DeNeefe, has shared, "As a source of life, the soil always gives us whatever we ask from it. Miraculously, the seeds we plant always grow and bear fruit. Water flows along the soil, protecting all living beings above and below its surface."
"The land is like a wise spiritual mother. It helps us become aware of maintaining balance and life cycles in human nature."
DeNeefe is also the founder and director of the Ubud Writers and Readers Festival, which will also return to Bali's cultural capital in October.
The festival has always been a platform to showcase and celebrate Balinese culture, art, dance, and heritage. Once again, in 2023, Ubud Food Festival will feature artwork by local Balinese artists, including the highly-regarded Ni Wayan Tiksna Gangga.
Gangga's work has already been displayed in Bali's most famous galleries, including the Agung Rai Museum of Art in the heart of Ubud.
Festival attendees will not only have the chance to listen to inspiring chefs and food specialists and taste some of their creations but also get into the kitchen themselves.
This year's workshops will include tempeh-making classes, as well as dozens of masterclasses where festival-goers can learn kitchen skills that will enhance their cooking for life.