Ubud has long been considered by international travelers as the cultural capital of Bali. Ubud was once a quiet, traditional market town, home to some of the island's finest artists and artisans.
Nowadays, Ubud is a busy and bustling tourism hotspot, but the cultural significance of the town still reigns strong.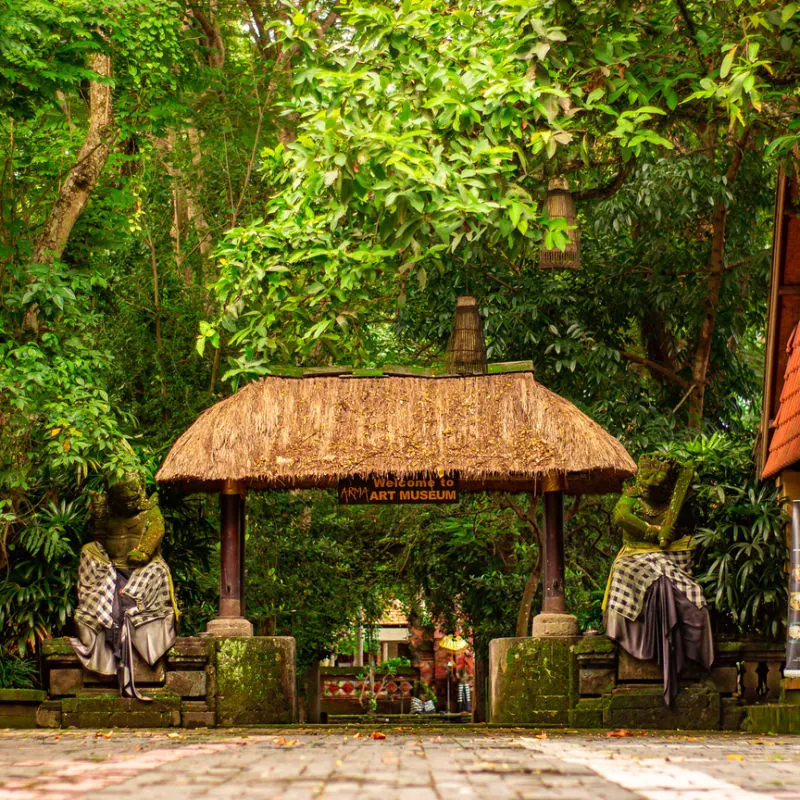 ARMA Museum and Resort is one of Ubud's most significant heritage hotels. Sprawling over six hectares of simply stunning Balinese gardens, the ambiance at the ARMA Museum and Resort feels like you're taking a step back in time.
Evidently, more than a place to lay one's head during a visit to central Bali, ARMA Museum and Resort is a living monument to Balinese art, culture, and architecture.
The hotel makes for a pretty sophisticated getaway too.
Guests at the ARMA Museum and Resort are invited to stay in one of the stunning selection of available rooms. Deluxe rooms showcase traditional Balinese cottage-style architecture, all complete with air conditioning and a private veranda overlooking the immaculately kept gardens.
More recent additions to the ARMA Museum and Resort rooming catalog include the Wisma Semi Superior room, which offers guests a seamless immersion into the surrounding Balinese forested landscape.
For a truly luxurious heritage-style retreat, be sure to book the ARMA Resort Suite Villa to relax in a space inspired by traditional Balinese architecture and modern Indonesian style.
Top 5 Travel Insurance Plans For 2023 Starting At $10 Per Week
Easily Earn Points For Free Travel
While the accommodation at ARMA Museum and Resort is more than lovely, it is the cultural experiences on offer at the hotel that really attracts thousands of international visitors every year.
Founded by Agung Rai, the Agung Rai Museum of Art (hence the name ARMA), the gallery and museum were founded with a clear purpose.
The team at ARMA Museum and Resort says, "The major goals of the ARMA Museum are: to collect and preserve artworks; to develop and preserve the art of painting, sculpture, dance, music, and various other cultural art forms (and) to provide means and infrastructure for the local society to learn various artistic skills."
The museum, restaurant, shop, and cultural shows at ARMA Museum and Resort are accessible to non-guests and day visitors.
The works on display at the ARMA Museum range from traditional works to more contemporary pieces, and it is a truly memorable place to explore during a visit to Ubud.
What sets ARMA Museum apart from other galleries and museums is that there is so much on offer for tourists to experience in a hands-on way.
Perhaps the most impactful way to engage with another culture is to really immerse in ourselves it with all our senses.
Guests at ARMA Museum and Resort are invited to take part in all kinds of cultural workshops to really gain a deep understanding of Balinese culture.
Guests can take part in a Rindik workshop, egg painting, silver making class, traditional daily offerings make workshop, Balinese painting classes, wood carving, and Balinese cooking classes.
The Rindik workshop is a wonderful way to spend an afternoon. The rindik is one of the instruments used in a traditional Balinese orchestra, known as a gamelan.
During the workshop, guests get to grips with the basics of playing the rindik, which involves beating the different-length bamboo tubes that are bound together to make the instrument.
During a visit to Bali, it is almost impossible not to fall in love with the rich sounds of a gamelan orchestra playing late into the evening at a nearby temple. This truly is the sound of Bali.
Travel trends for 2023 show that tourists to Bali are looking to do more than simply sunbathe on the beach. There are so many opportunities to learn new skills during a vacation to Bali.
From taking part in a Bahasa Indonesia language class to visiting a ceramics studio for a pottery workshop, more and more so are tourists looking to have interesting learning experiences on vacation.