The food culture in Bali is undeniably fantastic. Home to some of the most impressive traditional restaurants, innovative vegan eateries, epic post-surf cafes, and exquisite fine dining establishments anywhere in the world, a food tour of Bali is never complete.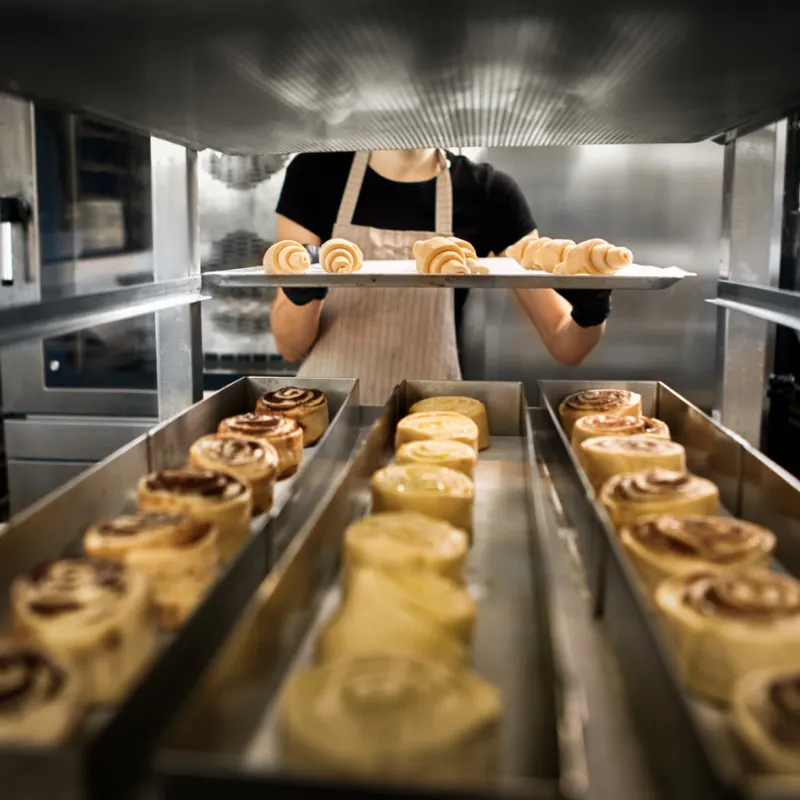 The hospitality sector in Bali is in constant evolution. This is why the island continues to be one of the world's most highly sought-after travel destinations.
From 5-star hotels to lavish private villas, from concierge services to local drivers and welcoming local communities, Bali makes tourists feel so at home during their visit.
Now, in a bid to further promote the food scene on the island and to support young, local culinary talent, the provincial government is investing in training dozens of young aspiring Balinese chefs in patisserie skills.
The Office of Cooperatives, Small and Medium Enterprises, and Trade of Badung have offered free training to dozens of budding local foodies.
The training has included not only patisserie and baking skills but also business training so attendees have the skillset necessary to become food entrepreneurs in the tourism industry.
This is great news for foodie travelers keen to explore new and exciting culinary experiences on the road.
Food culture in Bali may be synonymous with nasi campur, mie goreng, and even a classic Indonesian rending curry, but when it comes to patisserie and baking, the island is perhaps not the first place that springs to mind.
Top 5 Travel Insurance Plans For 2023 Starting At $10 Per Week
Easily Earn Points For Free Travel
The new trainees now have the skills needed to open their own bakeries, cake shops, and deserts delis. They also have the skills and business acumen needed to thrive in a busy international resort hotel kitchen.
Speaking to the media on behalf of the Badung Government, I Made Widiana said, "We are holding cake and bread doing training or better known as patisserie training, to equip people with the knowledge and skills to become a better baker."
Widiana continued, "In recent years, the development of pastry and bakery businesses and been getting better, as evidenced by the increasing number of emerging businesses, ranging from home businesses to street vendors to cafes. This is happening because these businesses have promising business opportunities".
So while this current batch of patisserie trainees are getting their business plans together, where is the best place to indulge in baked treats in Bali?
Baked in Canggu is a much-loved local brunch spot and incredible bakery. Whether you're looking for buttery croissants or perfectly flaky danishes, Baked is the place to go to get your dough fix!
Baked is so popular that they have two locations, one in central Canggu and the other in Pererenan.
When it comes to the best sourdough in Canggu, look no further than Starter Lab. The aptly named bakery offers an impressive range of baked treats. Aside from the soft and pillowy bread, be sure to check their seasonal specialties, whether it be hot cross buns at Easter or Halloween cookies in October.
For a post-surf carb fix in Uluwatu, make sure to make a b-line to Son of A Baker, Art & Bakery on Jalan Labuansait.
This intimate little bakery is a cute traveler hangout that serves great coffee and even better company, topped off with mouthwatering baked goods that will have you doing back for more.
For real patisserie treats in Ubud, look no further than Caramel Pâtisserie on Jalan Hanuman. Caramel Pâtisserie served delectable cakes, many of which have a Balinese twist, like the Panda Coconut cake or the Ubduain classic baked cheesecake.
Sticking in Ubud for the most wonderful selection of bread, be sure to saunter into Casa Luna cafe on Jalan Raya Ubud.
This gorgeous cafe serves up nourishing Mediterranean fare with a great selection of Indonesian classics. At the front counter, there is a daily display of freshly baked bread that is too good to miss out on! Team it up with a jar of hummus from Bali Buda just up the road, and you're onto a winner!