Everyone wants to feel like they're doing good in the world, right?
Whether it be through making donations to charity, doing your bit for the environment, or even making ethical purchases, it feels good to do good.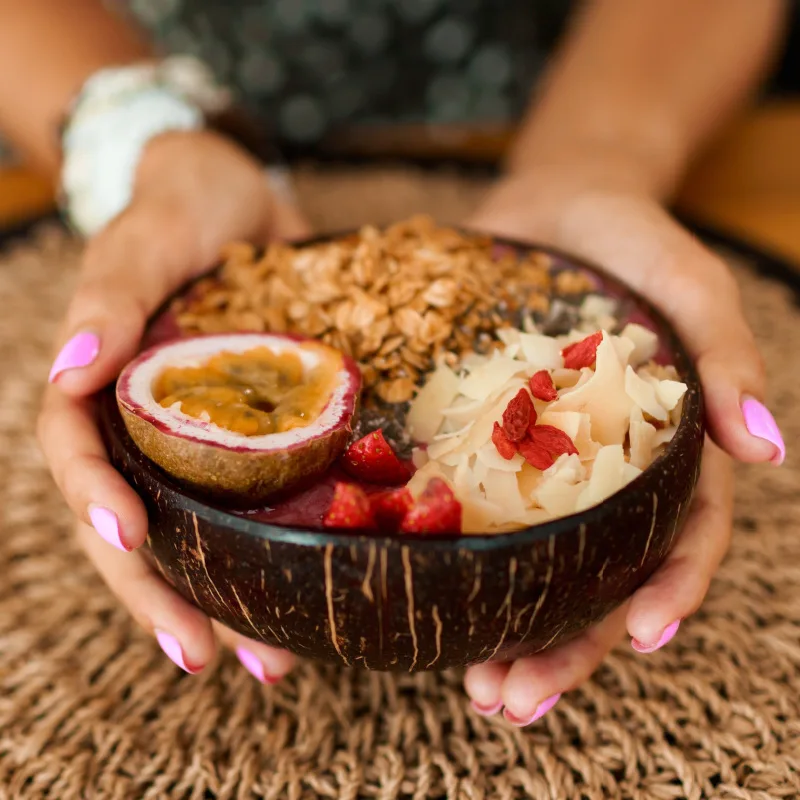 When it comes to creating a positive social impact while traveling, it can feel like a bit of a minefield. In Bali, however, there are not one but two incredible social impact cafes that you can visit safely in the knowledge you're doing good right.
The first is Give Cafe, the sister eatery of Canggu and Seminyak's Kynd Cafe.
Located on Jalan Padang Linjong in Canggu, Give Cafe is a 100% not-for-profit venture. The cafe serves up a completely plant-based menu with delicious treats for all to enjoy.
The all-day menu includes classic Indonesian dishes like mie goreng and healthy Buddha bowls, and tropical island pancakes. The coffee served at Give Cafe is from local Expat Roasters, and the menu feature cocktails and refreshers too.
Give Cafe's mission is simple. Every single purchase made at Give Cafe has a purpose.
They support three charities in Bali that support people, animals, and the planet. They are currently working with Bali Paws, who help street cats and dogs on the island.
Funds generated by Give Cafe are also sent to Soleman Indonesia, an incredible organization that helps people living with disabilities, mental health disorders, and chronic illnesses across Bali.
Finally, for the good of the planet, Give Cafe is currently supporting Sungai Watch, a local charity that is devoted to cleaning up Indonesia's rivers and illegal landfill sites.
Top 5 Travel Insurance Plans For 2023 Starting At $10 Per Week
Give Cafe is a super laid-back eatery. The kind of place where you can grab a table and hang out for the majority of the day, grazing from the snack menu and sipping away on one too many coffees.
Since opening its doors in 2018, Give Cafe has raised over AUD 51,000 for charity, with more funds being generated each day.
Give Cafe's sister enterprise is the Kynd Community, with cafes in Canggu and Seminyak. Both cafes are bright and airy, incredibly welcoming, and super homely.
Featuring Wes Anderson-style dusty pink decor, and colorful dishes, guests leave Kynd Cafe feeling nourished not only by the food.
Kynd Community in Seminyak can be found at Jalan Petitenget No.12 Kerobokan Kelod, Seminyak.
Kynd Community in Canggu is located on Jl. Nelayan No.31, Canggu, Kec. Kuta Utara, Kabupaten Badung, Bali 80361, Indonesia.
Give Cafe is located at Jl. Canggu Padang Linjong No.85, Canggu.
Onto the next exceptional social impact business that you simply must visit during your time in Bali. Introducing Inklusiv Warung.
This little-known eatery and house of fun are worthy of so much praise. Inklusiv Warung is a cafe managed and run by highly trained hospitality staff who are deaf.
Guests can indulge in a menu filled with comfort food and local dishes.
The cafe is on a mission to empower deaf and other minority communities in Canggu by using the cafe as a platform for community growth, awareness, and celebration.
What sets Inklusiv Warung apart from other venues in Canggu even further (and in the best of ways!) is that they also support the local queer scene.
Inklusiv Warung hosts a weekly program of events, including Drag Shows featuring local drag talent.
On Wednesday nights, from 9 pm onwards, Inklusiv Warung hosts a drag show trivia night, and on Friday nights, a drag show with tarot readings.
Special events also include traditional Balinese dance and community workshops to learn the basics of Indonesian sign language.
No worries if your Indonesian sign language is not up to scratch! Guests and servers each find their own way of communicating, either through gestures or writing down what they want to say in a series of pass notes.
The QR code on the menu also links you to some quick tutorials on the basics of Indonesian sign language to learn as your meal is prepared. Inklusiv Warung can be found on Jl. Munduk Catu 8A, Canggu.