Bali is best known around the world as a destination for tropical white sandy beaches, perfect for a classic coastal vacation.
Bali's unique coastline changes dramatically across the island. From pristine, soft white sandy shorelines to rugged and rocky oceanic landscapes, Bali's beaches have a lot to offer.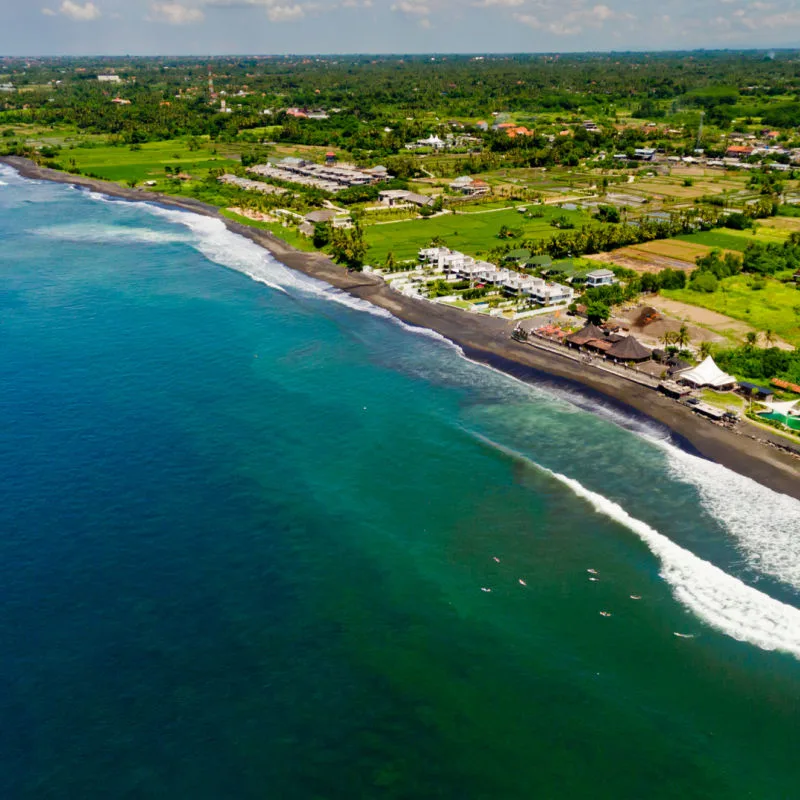 One area of Bali's coastline that is often overlooked by tourists is the Gianyar coastline.
Most travelers explore the more inland villages and towns of Gianyar Regency, namely Ubud. But head down to the coast, and you will find a host of hidden gems to be discovered.
What makes Gianyar's coastline so unique is that the beaches are comprised of black sand. It is believed that this volcanic black sand has a plethora of healing properties.
It is not uncommon to find local people visiting the beach to submerge themselves in the sand to heal all manner of ailments.
Gianyar's most famous beaches are Keramas Beach and Saba Beach. Not only are these the most impressive coastal vistas in the regency, but they also have the most amount of amenities for tourists to have an enjoyable stay.
One of the joys of traveling along the Gianyar coastline is that accommodation tends to be a touch more affordable than hotels, private villas, and guesthouses in Bali's more popular beachside designations of, say, Canggu or Uluwatu.
Keramas Beach is a much-loved surfing destination. Keramas is actually a slang word in Indonesian. A direct translation means 'to wash hair', which is an expression that describes being barreled by a wave.
Top 5 Travel Insurance Plans For 2023 Starting At $10 Per Week
Easily Earn Points For Free Travel
In fact, the surf off Keramas Beach is so good that the beach hosts the World Surf League every year. The surf is not exactly beginner-friendly; for gentle waves to help you learn to surf, be sure to head over to Kuta Beach or even Legian or Seminyak.
It is possible to paddle and swim at Keramas Beach, though there is a strong current pulling across the shallow reef, so be sure to keep safe in the water.
Breman Brewery and Bar is one of the most popular eateries and drinking spots at Keramas Beach. This cozy hang-out is loved by locals and tourists alike.
Laid back and super friendly, guests return time and time again to spend a chilled afternoon (and long evenings) at Breman Brewery and Bar. Beer is brewed in-house, and there are two signature brews to sample.
Terang is a punchy larger with a 4.65% ABV, and Gelap has a dark, toffee aroma with a bitter kick and a 4.62% ABV.
For a more up-market dining experience after a long day relaxing on Keramas Beach, check out Timur Kitchen and Komaneka at Keramas.
The food and service at Timur Kitchen always get rave reviews. An early evening sitting can be kicked off perfectly with a sundowner overlooking the beach and glistening ocean.
Saba Beach is a striking stretch of Gianyar's black sand coastline. Loved by local families, there is plenty to explore at Saba Beach.
At low tide, the waterline recedes to reveal rock pools. Though, again, there are strong currents off Saba Beach, so take extra caution if entering the water.
Flamingo Beach Club is the best-known day club along the Gianyar coast. This vibrant and family-friendly social beach club offers families, couples, and solo travelers a relaxed and fun environment to spend a chilled vacation day.
The Segara Seaview Pool Garden and Eatery are one of the most loved family restaurants at Saba Beach. Guests are welcome to spend the day enjoying the pool and gardens, which include play equipment for the kids.
Standing Stones Restaurant, which is part of The Royal Purnama Hotel, can be found just up the coastline at Pantai Purnama.
Dining at Standing Stones Restaurant is a real treat. The menu features classic European dishes like tuna niçoise salad and chicken parmigiana.
Yet it is the traditional Indonesian dishes served up by Standing Stones Restaurant which really set the eatery apart. Be sure to try the ayam betutu, or the iconic bebek goreng (Balinese crispy duck)