Glamping in Bali, we hear you say?! Yes!
Glamping in Bali is a total vibe! From 5-star African-inspired jungle safari tents to rustic lakeside cabins, glamping in Bali is a once-in-a-lifetime experience that is not to be missed.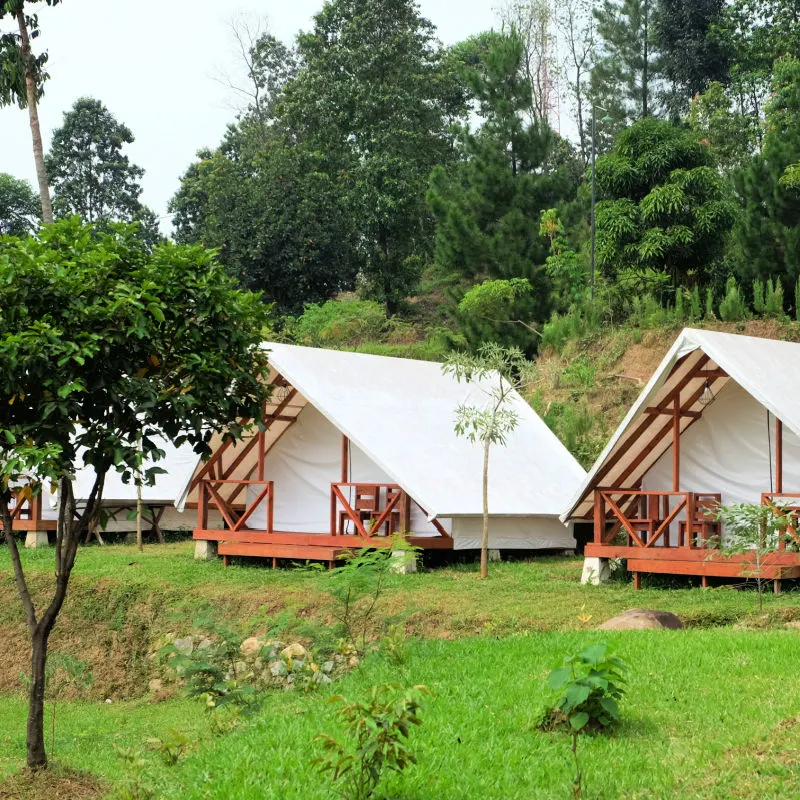 Getting away from the busy resort areas, especially along Bali's coastlines, offers travelers a chance to relax, unwind and reconnect with nature.
One of the joys of clamping in Bali is the stargazing.
While the stars are often pretty bright, even in built-up areas, for an unrivaled view of the night sky, you've got to head for the hills…the Kintamani hills, to be precise — the mountains.
And if you think the stars are breathtaking, just wait til sunrise!
Kintamani is a simply stunning part of Bali, famous for its coffee plantations and for its views over sacred Mount Batur and Lake Batur.
Happy campers heading to Kintamani will be impressed to discover a huge range of glamping options, to suit every budget and desired level of comfort.
For first-time glampers, why not book into Bobocabins? Offering guests magnificent views of Mount Batur and the vast Batur Lake.
The cabins are cute and ultra-comfortable, with smart windows giving guests the option to enjoy the view or a quiet homely retreat.
Everything within the cabins, from the lighting to ambient sound, is controlled by the easy-to-use B-pad, which allows guests to get the mood just so.
For an extra VIP experience, book into a deluxe cabin which comes with a private hot tub with views over the lake and volcano.
This is a next-level glamping experience, perfect for travelers who like their home comforts and who want to soak in stunning panoramic views of the Island of the Gods.
Top 5 Travel Insurance Plans For 2023 Starting At $10 Per Week
Easily Earn Points For Free Travel
How about staying in a bubble?! For a truly unique getaway in Kintamani, check out Kubah Bali Glamping. This resort offers both geometric dome glamping tents and bubbles.
Made famous by Instagram influencers, the bubble tents really are as cool in real life as they appear online.
Just imagine watching the moon rise over Mount Batur, stargazing, and being able to watch the sunrise over the mountainous backdrop all from the comfort of your own intimate bubble tent…it's the stuff of bucket list dreams!
Kintamani may sound a little off the beaten track, but it's actually really accessible from Bali's leading resort destinations.
Kintamani and the best glamping spots around Lake Batur are just under an hour by drive from the center of Ubud.
In fact, relocating from a stay in Ubud to your stay in Kintamani is perfectly punctuated with a stop-off at the famous Telallagang Rice Terraces, which mark the halfway point between the two must-visit hotspots.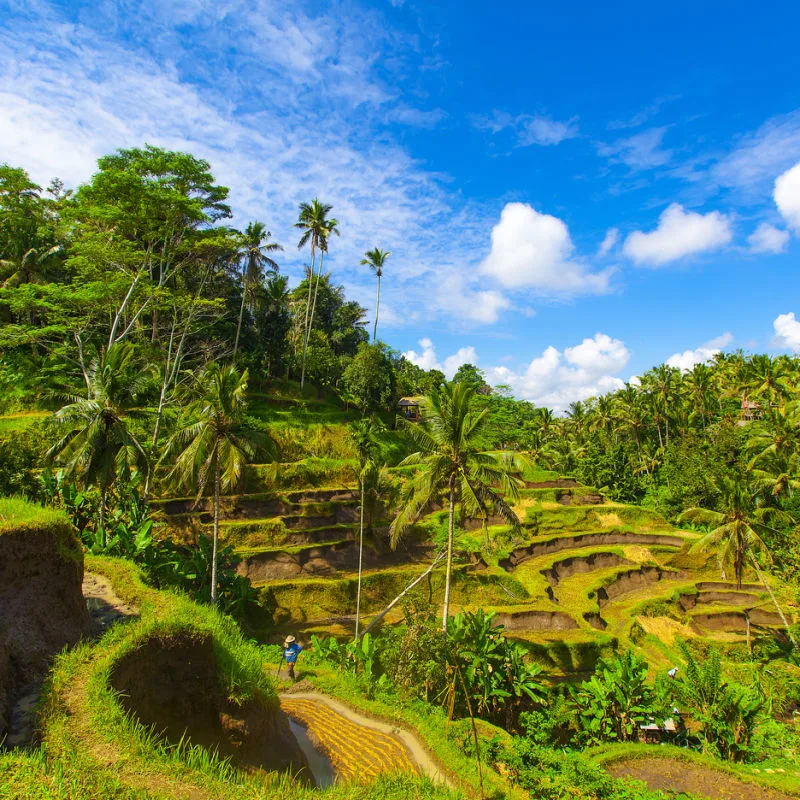 Need more glamping options in Kintamani? We've got you covered! Check out Bali Sunrise Camp and Homestay. This locally owned and managed glamping homestay is simple, rustic, and affordable.
It makes for an ideal place to stay if you're planning on hiking Mount Batur at sunrise or want to watch the sunrise over the mountain from the Sukawana Sunrise Spot, which is a quick 30-minute drive away.
N'Jung Bali Camp can be found right on the banks of Lake Batur and offers guests the chance to stay in super cute a-frame glamping huts with breathtaking waterfront views and gorgeous gardens for lazy afternoon hangouts with fellow Bali explorers.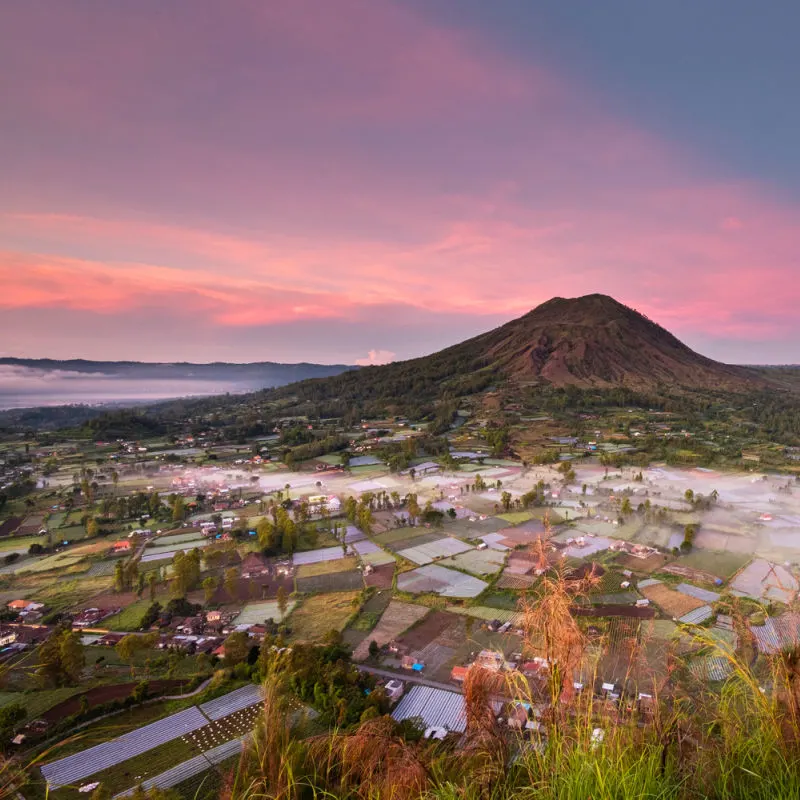 We get it; glamping may not be for everyone.
So if you want to experience all that Kintamani has to offer, including the sunrises and stargazing but minus the tent, we've got you covered.
Batur Bamboo Cabin is a cute little resort offering guests their own private bamboo bungalow overlooking the surrounding highlands.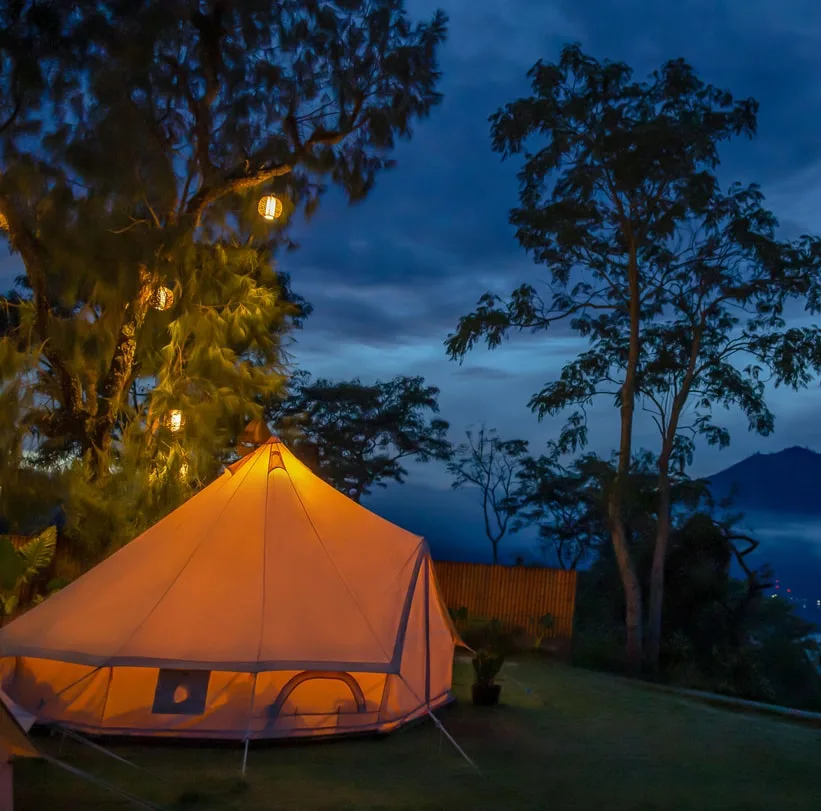 Toya Devasya Geopark Resort and Villas is a high-end resort showcasing some of the best views of the surrounding landscape any accommodation in the area has to offer.
Guests have direct access to the natural hot springs pool, and staff is always on hand to help arrange activities to make the most of a stay.