The internet, especially social media, has played an enormous role in ensuring that Bali remains one of the world's leading travel destinations.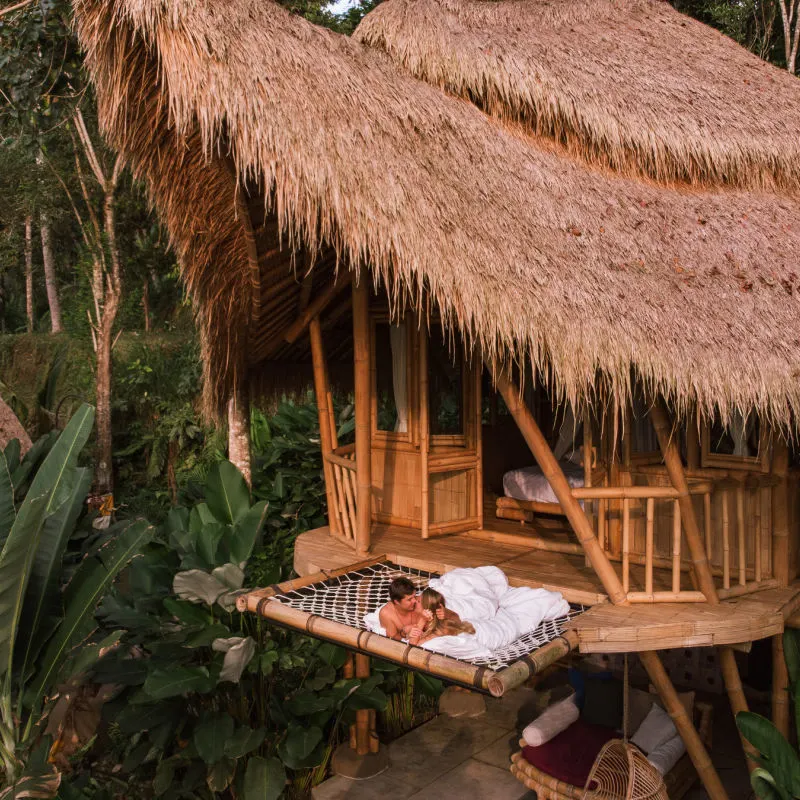 When it comes to seeking travel inspiration online, travelers have to exercise a certain level of discernment. All may not always be as it seems.
But in Bali, the ever-trending bamboo houses are as stunning in real life as they are on social media.
The use of bamboo for building large houses, pavilions, and shalas has happened throughout Asia for hundreds of years.
In recent times, however, there has been one company that has bought bamboo design back to the forefront of our collective imaginations.
Ibuku (meaning my mother in Bahasa Indonesia) is a world-renowned architecture design company based in Bali.
Dedicated to bringing the wonders of bamboo design to the world, the team at Ibuku is responsible for creating some of Bali's most impressive bamboo buildings.
The company was founded by Elora Hardy, a world-renowned creative and daughter of John and Cynthia Hardy, the founders of Bali's Green School, Bambu Indah, the boutique eco-resort, Bamboo U, and many more environmentally sustainable businesses and initiatives.
One of Ibuku's most iconic bamboo houses is Aura House at Green Village.
Easily one of the most recognizable tree house style retreats in Bali, Aura House is a favorite with content creators, influencers, and luxury travelers.
Aura House was built in 2018 and is constructed from the 'purest blonde bamboo and woven the way a bird would'.
Green Village is a simply stunning eco-resort built with the utmost dedication to sustainable and regenerative principles.
Top 5 Travel Insurance Plans For 2023 Starting At $10 Per Week
Easily Earn Points For Free Travel
The three-story villa overlooks the Ayung River gorge and is utterly breathtaking. Aura House has two private en-suite bedrooms and an expansive living space perfectly furnished with bamboo furniture and ethically sourced linens.
Aura House also offers guests a private plunge pool and access to the communal facilities at Green Village, which includes a grounding yoga pavilion and a large swimming pool.
Each of the bamboo houses at Green Village has a unique design are offer a complete retreat from the world, surrounded by the immaculate and abundant permaculture gardens, cacao groves, and bamboo forest.
Bambu Indah is a real Garden of Eden on the Island of the Gods. This picturesque resort is also home to bamboo houses designed and built by the Ibuku team, the resort was founded by John and Cynthia Hardy.
Recommended by the likes of Vogue, Conde Nast Traveler, and the Los Angeles Times, a stay at Bambu Indah is a once-in-a-lifetime treat.
Guests can check into the Gaudua House, described as 'an alter to open-air living, or the Jawa Lama House, which transports travelers to Old Java through its rustic wooden charm.
The Tree House at Bambu Indah can only be described as ethereal, dreamy, and wholly otherworldly, yet perhaps the earth-inspired place guests will ever have the honor of laying their heads.
Bambu Indah and Green Village are world-class destinations that quite rightly come with a premium price tag.
For those looking to experience the joys of bamboo living during their trip to Bali on a more conservative budget, look no further than Hideout Bali.
Located in East Bali, be sure to explore all that Hideout has to offer. The eco-resort sits right on the river's edge, hidden under the gaze of Mount Agung.
There are seven bamboo houses on the property. The Hay House is the most intimate bamboo retreat space, offering guests a taste of tiny home living surrounded by tropical jungle.
Hideout's most popular bamboo house is the Beehive, which boasts not only the best river and jungle views but also offers guests their own private jacuzzi.
A final honorable mention must go to Veluvana House. This gorgeous bamboo villa is hidden away in the sleeping village of Sideman.
Just an hour by drive from the heart of Ubud, Veluvana House is an idyllic romantic retreat. The bamboo house offers guests unparalleled comfort and luxury, with complete immersion in nature.
All of the bamboo used in the construction of Veluvana House was grown in Bali, and the house was built by talented local craftsmen.